The front door is arguably the focal point of a home – the entry into your private getaway. Choosing the doors (whether interior or exterior) to your presale home can add just the perfect amount of character to your new construction home.
Timeline – The delivery and installation can vary depending on the vendor and the timeline derived by the construction company. Still, we tend to see exterior doors installed after the roof installation.
Popular Options
Stained Wood (with glass variations) – When it comes to front doors, we use stained wood that's fingerprint-resistant. The variation comes with the glass. Below you'll see different options that we use depending on the style of the home.
Pivot Door – These doors have the same construction as those mentioned above, but the mechanism that attaches them differs. Traditional doors are affixed with radius door hinges at the side of the door. Pivot door hinges are mounted on the top and bottom side of the door instead of on the side. The pivot door rotates on a vertical axis. A pivot door's movement is visually very different from a regular hinged door. They also tend to be made of heavier wood because the mechanism can support it.
"NanaWall," aka Nana Doors – This type of door is made of glass that slides or folds open like an accordion and is most often used at the back of the house connecting the patio. This door style offers ample light and is excellent for entertaining as you can slide it open to connect your patio to the Great Room or Kitchen.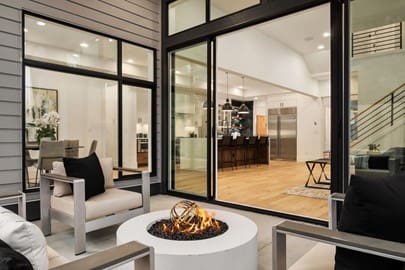 Garage Doors – Our garage doors most often match the front door style. The most common style we tend to see is a modern matte black metal frame that isn't painted. If there's glass, we usually opt for one that has etched glass to provide privacy to the homeowner.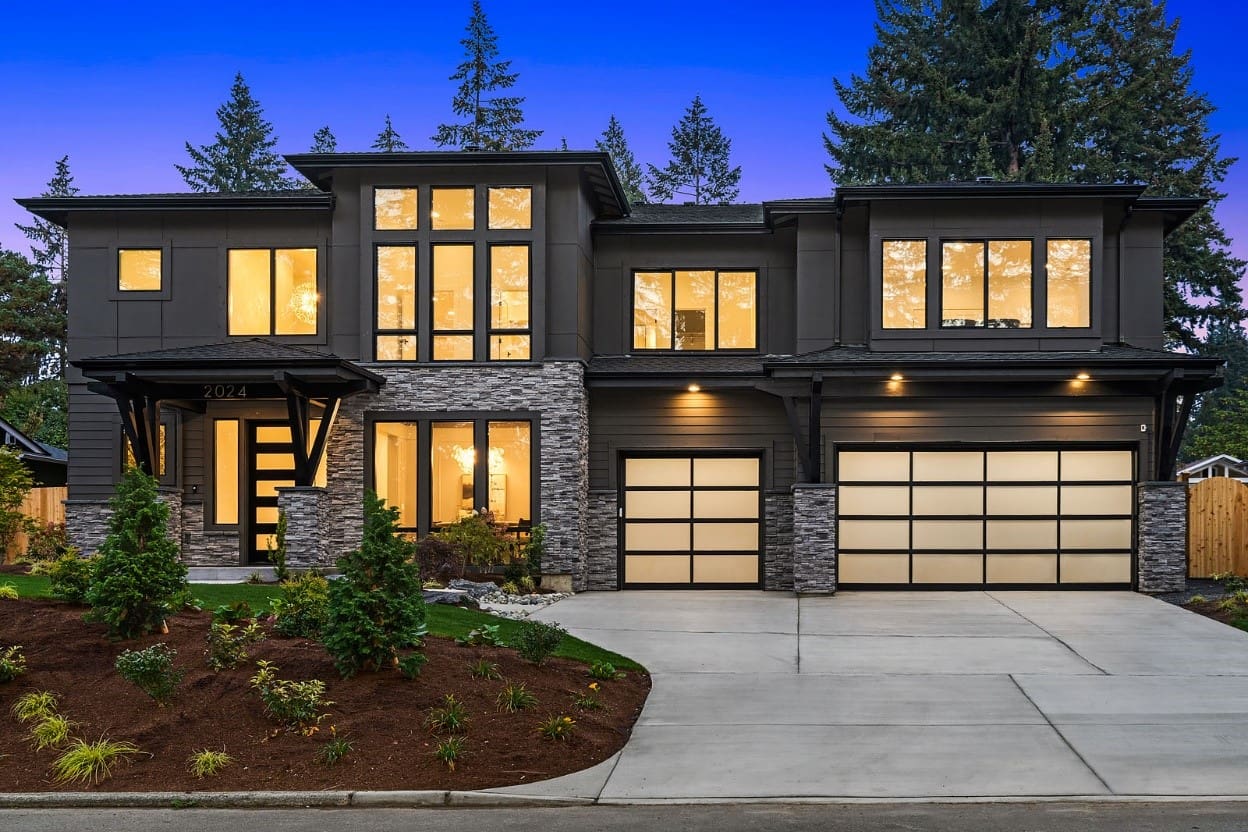 Timeline – Similar to the exterior doors, the delivery and installation can vary depending on the vendor and the timeline derived by the construction company. We tend to see interior doors installed around the same time as the electrical rough-in (when the electrical lines are laid out but not connected to a power source) begins.
Popular Options
MDF Door – Aptly named MDF, Medium Density Fiberboard, doors are lighter in weight than solid wood doors and are best used for the interior. These doors are painted either the trim or body color, depending on the interior design choices for that room. As a general rule of thumb, it's best to use the same type of door for most of the rooms inside your house while being strategic for when you stray.
Stained Wood – This type of door is the same density as our front doors: solid stained wood that's fingerprint-resistant. If we use this type of door in the interior, you'll likely only see it on the home's first floor, as that's where your guests tend to reside, and they look the best.
Barn Doors – A barn door is a sliding door hung on a sliding track. Instead of closing and opening like traditional doors, they slide to the side and hang perfectly against the wall. It can be either one or two panels; sometimes, they can be made of etched glass or MDF. Barn doors can add character to your home but shouldn't be overused. This style isn't recommended for private spaces like a restroom, only reserved for rooms that don't need privacy, like a den or study space.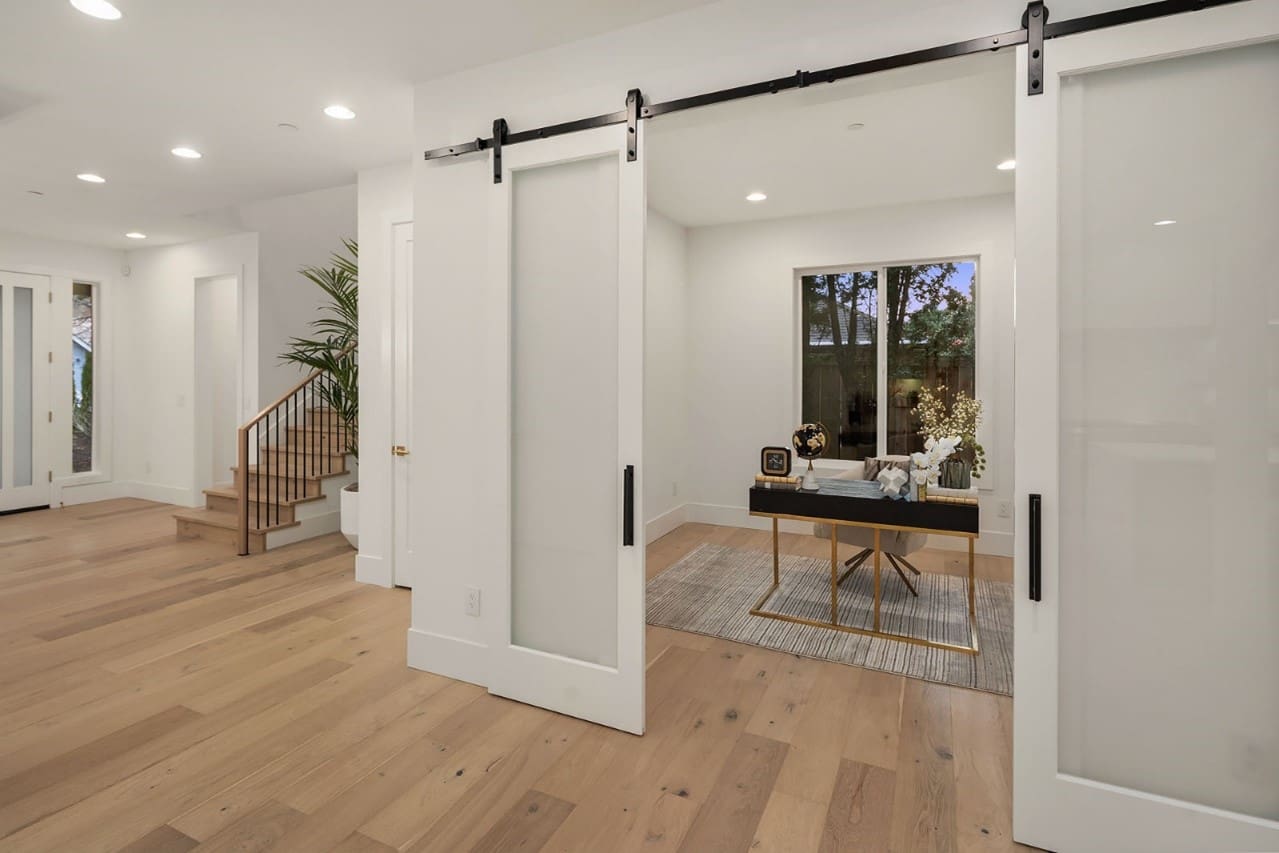 Pocket Door – A pocket door is a sliding door that, when fully open, disappears into a compartment in the adjacent wall. Pocket doors are used for architectural effect or when there is no room for the swing of a hinged door. They can travel on rollers suspended from overhead tracks or guides along the floor. If used in a home, you'll most often see them in a tight space like a half bathroom while providing just enough privacy and sound blocking.
Conclusion
Doors may seem like a simple choice, but they can add just the right amount of personal touch when chosen with thoughtful consideration. So if this blog got you excited about choosing your doors for a new construction presale home, check out our inventory and get in touch.