Of the areas you can customize in a presale home, hard surfaces may be one of the more fun aspects to personalize because they cover a large surface area of the home and add a special touch to the overall interior design theme. This blog will cover what hard surfaces are and the most common options for each category.
The term "hard surface" is a blanket term used for hardwood, tile, countertops, and other hard surfaces. Some contractors also install carpet, so carpet gets grouped into the category.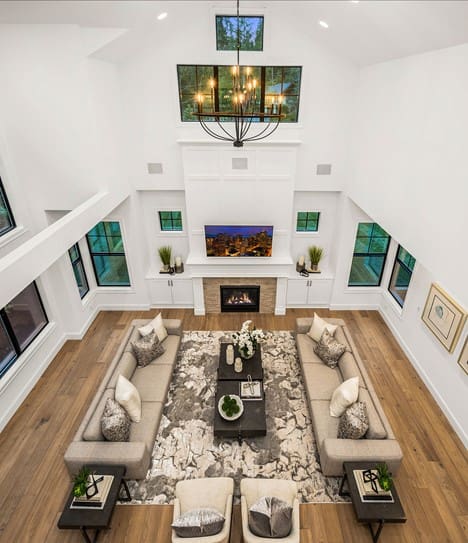 There are a few points to consider for hardwood flooring: the technical material information and the color & wood species. The technical material info is important because it helps to guide selection and the installation process.
Wood Make-up
Engineered Hardwood – This flooring board is a top veneer layer above a more stable base material similar to plywood. Due to the stability of the base material at differing humidity, the hardwood is available in wider planks.

Solid Hardwood

– When the entire flooring board is one piece of wood, it is prone to movement (swelling and contracting) with humidity levels. Therefore it is best to install solid wood at narrower widths than engineered hardwood, <3.5″ widths.
Wood Finish
Site-finished hardwood

– Site-finished wood is delivered to the site as raw wood. First, the wood must acclimate to the home's humidity (~3 days onsite). Then after installation, treatments occur like a stain, wood filler (to fill imperfections), sanding, finish, and buffing.

Pre-finished Hardwood

– Pre-finished hardwood comes out of the box ready for installation with a consistent finish and, depending on the manufacturer, has little need to acclimate onsite.
Wood Installation
Boards are often joined together with either a tongue and groove or a click-lock joint. Then they are secured to the floor with just staples/cleats, with wider boards requiring glue assistance, or fully troweled glue.
Care & Maintenance
Pre-finished hardwood is easier to touch up or replace one specific board, whereas site-finished may require the entire floor to be recoated depending on what's needed. Solid site-finished hardwood can be sanded and refinished multiple times, while the pre-finished "wear" layer often does not allow for refinishing.
Trends – The current popular trend is pre-finished white oak stained in natural and gray tones. Plank widths are typically 6″ to 9″ wide, with a low sheen appearance. Maple, ash, mahogany, and cherry hardwoods are also popular.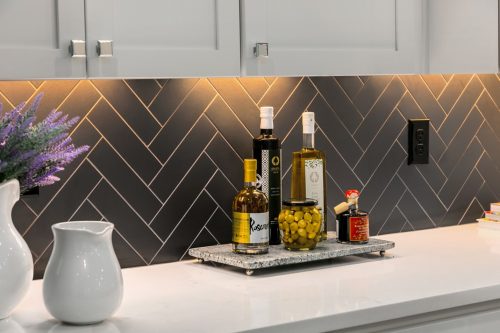 Within the tile category, there are different options to choose from. Tile can be made of either ceramic, porcelain, or natural stone and can be installed on the floor, shower, or walls (as an accent or backsplash). If you're interested in heated bathroom floors, tile easily allows that option.
Ceramic tile, the most economical tile, is made of ceramic clay that is fired in an oven to harden. Even after firing, ceramic is a softer material similar to brick, is porous, and is typically installed on vertical services: walls and backsplash. An example of a ceramic tile is a 3×6 subway tile backsplash.
Porcelain tile is a type of ceramic made of porcelain clay and is fired at a higher temperature than generic ceramic. It results in a harder, stronger, and less porous material. Due to its durability, porcelain is a great choice for floors or walls. An example of porcelain tile is the master bath wall and floor tile.
Natural stone tile is tile made of natural stone that is porous and requires sealing. Natural stone tile is best used in decorative locations like shower wall accents or above the kitchen range.
There are three main factors when choosing carpet type: what material it's made of, how that fiber is woven to create a surface and the pad underneath. Each material offers unique characteristics and provides various benefits, including durability and stain resistance. Here are the main material options:
Wool
Nylon
Polyester
Recycled PET (polyethylene terephthalate)
Olefin (polypropylene)
Triexta PTT (polytrimethylene terephthalate) aka SmartStrand
Standard pads are made of rubber or foam and range in thickness from 1/4″ to 7/16″. The pad underneath can affect the cushion of the carpet, so if you want something plusher, opt for a high-pile option with thick padding.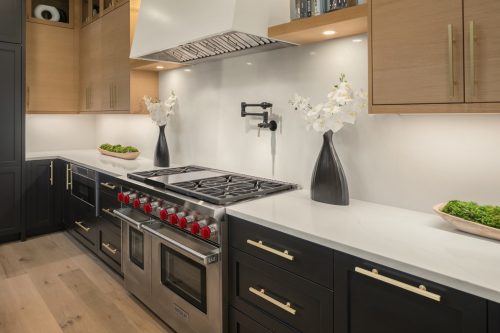 When it comes to countertops, customization options are a great place to change the style of the space, whether it be the kitchen, bathroom, etc. Depending on the builder, they may work with a specific type of countertop material like engineered quartz or natural stone like White Macabus (which is a quartzite). There are, of course, many other options to choose from.
Engineered Quartz
Quartzite
Granite
Marble
Soapstone
+ more
Most of the above options come in a variety of colors to provide even more ways to customize your dream home. 
Trends – Current popular trends are for quartz countertops with patterns to match natural stone marble veining.
Hard surfaces are an excellent customization area to fine-tune your home's style. Presales allow you to choose what style countertop you want or what wood type you'd prefer for the flooring. Get started by taking a look at our presale home inventory.