Exterior home design is not the only part of the design to consider when selecting a new construction home, interior design is equally as important. In this blog, we'll cover some popular interior home design styles and what makes them different from each other.
Before we get into the different styles, there are some general design principles to note. Mixing and layering colors, shapes, textures, and patterns can give you infinite design possibilities. So overall, the difference between the below styles ultimately lies in how these elements are layered and mixed. Additionally, it's best to have a continuous flow of design style/aesthetic from exterior to interior.
Modern Craftsman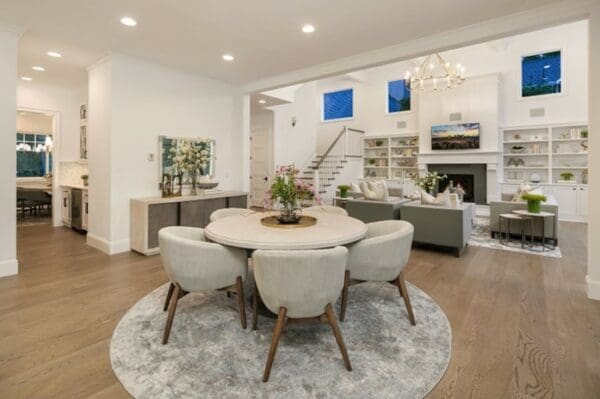 The Modern Craftsman style is an open concept version of a traditional Craftsman, which focuses on horizontal lines, natural materials, and hand-crafted details. These designs tend to be airier and more welcoming with a flexible circulation within the house. Here are some things you can expect to see within Modern Craftsman interior design:
Natural materials (wood, stone, brick, glass, tiles)
Original textiles, most often handmade
Earthy color in the finish (shades of brown, green, ocher, warm)
Fireplaces with natural stone finishing
Open rafters and beams
Built-in cabinetry and shelves
Transitional
Just like in the exterior design, Transitional is exactly what it sounds like, a crossover between Traditional and Modern. In other words, it is simplifying traditional. Here are some things you can expect to see within Transitional interior design:
Classic, timeless design that is simple yet sophisticated
Neutral colors, like cream, taupe, warmer grays, and neutral blues
Highlighted contrast through textures or tones
Focal points, like the fireplace or millwork detail
Suede, chenille, and leather fabrics
Furniture is comfortable and livable, with a combination of curves and straight lines
Mirrored glass and metallic furnishings and decor
Modern Farmhouse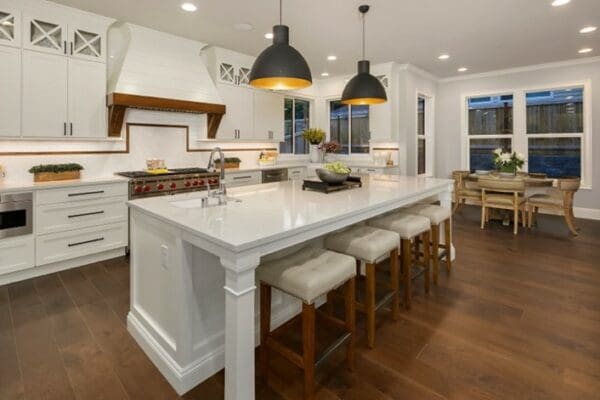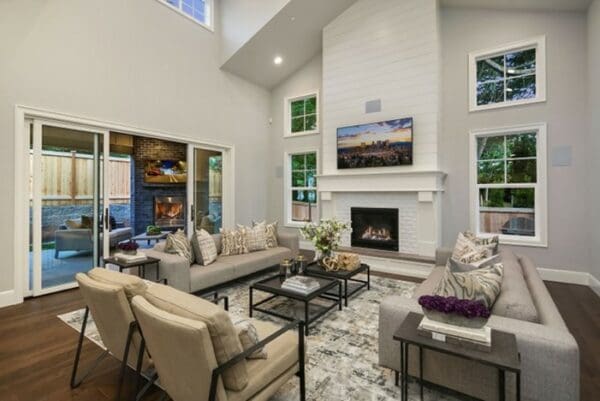 Modern Farmhouse design can be described as a blend of rustic and sleek as well as a mix of warmth, personality, and character with a hint of minimalism. Here are some things you can expect to see within Modern Farmhouse interior design:
Contemporary materials with weathered finishes such as untreated, raw woods, exposed brickwork and leathers and tiles with a patina
Rustic sconces and dramatic light fixtures
Layer neutral colors like whites, creams, and soft grays with pops of natural colors like terracotta, dark green, black, etc.
Mixture of woods and metals and combine fabrics like cotton, canvas, wool, and chenille
Metal light fixtures; hardware; and architectural details, like railings
Uncluttered space with accessories at a minimum
Modern Glam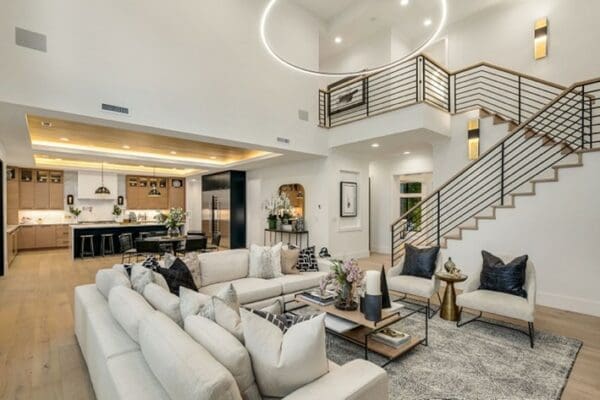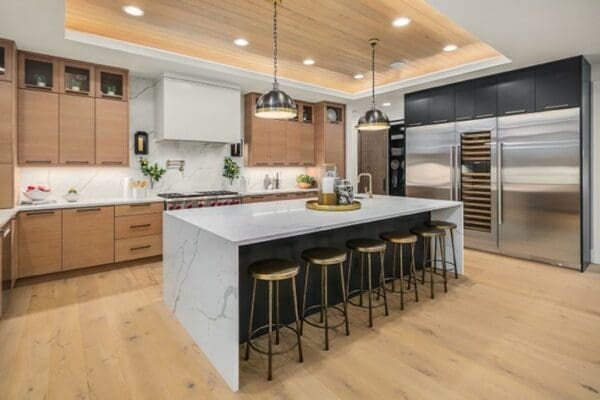 Modern Glam is a design style similar to Hollywood Glam but less extravagant and bold. This style takes inspiration from upscale, classy design as well as minimalist, modern design. Here are some things you can expect to see within Modern Glam interior design:
Emphasis on materials, finishes, and comfort
Combination of metallics (gold or silver), neutrals (black or white), and accent colors (pink, gray, etc.)
Simplified classic architectural details
Brass and mirrored furniture
Marbled surfaces and metallic accents
Luxurious fabrics and textures like faux-fur, velvet, and silk
There are so many ways to apply these styles within a new construction home. Regardless of what interior design style you prefer, you can tailor any of these to fit your preferences. Additionally, there are many more styles to consider aside from the ones highlighted here. These are just a few of the design styles we offer at MN; more interior design topics to come. To learn more about our homes, check out our available homes as well as our presales program.