Are you looking to customize the cabinetry in your presale home but don't know where to start or what your options are? When it comes to cabinetry, there are many design choices to consider when creating the perfect storage system for your new construction home.
Cabinetry Types
Face Frame Cabinets
First up we have face frame cabinets (aka "American style" cabinets). These cabinets consist of a cabinet box made of lightweight furniture board on the sides, rear, and bottom, and a wood face (or door) made of vertical stiles and horizontal rails. The stile and rail doors are typically made of Maple or Poplar wood for painted cabinets, and Maple, Oak, or Walnut wood for stained. Just like it sounds, these types of cabinets have a frame on the face of the cabinet to which the doors are attached and rely on for support. Soft-close hinges can be used to eliminate the slamming of doors and drawers. Within this category, there are two different ways the doors can be installed: overlay or inset.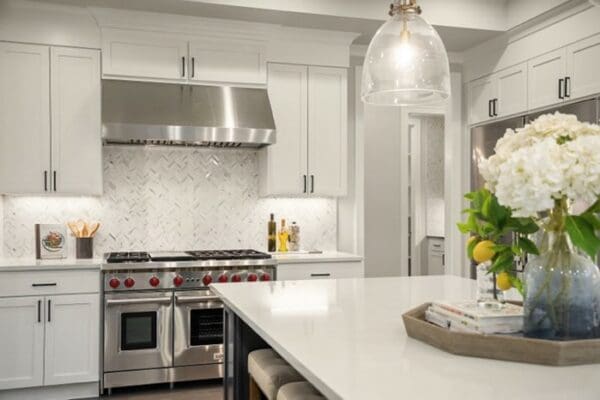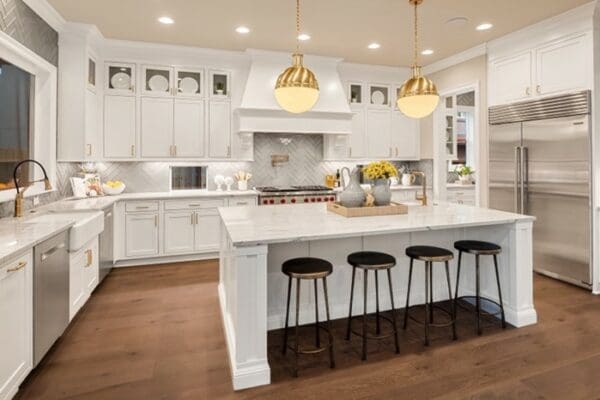 Overlay Door – Overlay doors rest on top of the face frame and have less than an inch of gapping between them, but the frame is still visible. See left image above as an example.
Inset Door – Inset doors are nestled into the face frame so the cabinetry and doors are completely flush with the face frame fully visible. Inset face frame cabinets tend to be more expensive than overlay face frame cabinets mainly because of the precision required to obtain the consistent gapping around the door, and the hinges mount to the cabinet instead of on the face-frame requiring low clearance operation. See right image above as an example.
Advantages:
The frame prevents the cabinet from getting "out of square".
Face frame cabinets provide more sizes and modification options.
Since face frame cabinets can accept any type of door and drawer front, they offer lots of style flexibility.
Disadvantages:
Drawers have slightly less interior space due to the frame.
Most often there is a center stile that comes down the center of the cabinet doors. This may pose as an obstacle.
The lightweight cabinet box does not allow for base cabinets to be installed as a wall-suspended or "floating" cabinet because it has a lower weight capacity than heavier alternatives.

Frameless Cabinets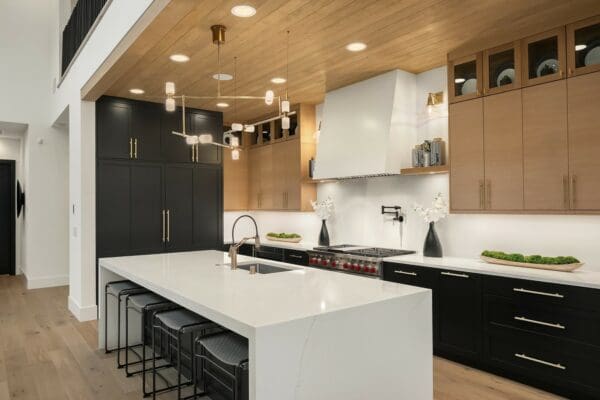 The other type is frameless cabinets (aka "European style" cabinets). These cabinets consist of a heavier, stronger box made of furniture board or plywood and a door made of either wood or composite material. Conversely to face frame cabinets, this type of cabinet does not have a frame on the face of the cabinet; instead, the end grain of the box is "edge-banded" to match the exterior finish. The door is installed directly on the box resulting in virtually no space between each door. The hinges are unique to allow doors to open in the low-clearance arrangement. Additionally, soft-close hinges can be used to eliminate the slamming of doors and drawers. See image above as an example.
Advantages:
There's more storage. Without the face frame, there's no obstacle (center stile) to worry about when storing kitchen accessories.
The heavier box can be used as wall-hung floating cabinets without much modification.
Frameless cabinetry gives you the option to leave off the doors if you would prefer some open shelves.
Disadvantages:
Frameless cabinets cost more due to the heavier box construction needed to support the door as well as parts required to trim out the sides, top, and bottom of cabinets called end panels and valences. These extra cosmetic pieces are visible in the image above.
Frameless cabinets have fewer options for sizes and modifications.
Your design choices are limited to full overlay doors only that cover the entire opening.
Presales Customization Timing
If you're looking into getting a new construction home, specifically an MN presale home, and you want to customize your cabinetry, here's what you need to know. The floor plan/layout, framing, and plumbing all affect what you can do in terms of cabinetry. These stages happen very early in the construction of a new home, so if customizing the cabinetry is important to you, you'll need to get a home that's in the first stages of construction. If you chose a presale that is a little too far along, you may still be able to customize the smaller details like the finishes. Communicating what you're hoping to personalize in your presales will be vital while weighing your options.
When it comes to customizing cabinetry and deciding between face frame and frameless cabinets, it all comes down to personal preference and styling. If you're in the market for a new home where you can customize your own cabinets, visit our presales program page.