A special element to customize in a presale home is paint. Though it's a category that can be changed frequently throughout the years, it's important to be intentional with your color and sheen choices. This blog will cover interior and exterior paint finishes and basic color theory best practices. 
Your home's color palette will reflect your personal sense of style—but paint choices affect the issues of durability and stain resistance, too. Consider activities that will take place in each room of your house and what wear and tear they'll be subjected to, then use this chart to decide what type of paint will work best in each room.
Sheen

Best For

Durability

Stain Resistance

Ease of Maintenance

Notes

Gloss (very shiny)

Mostly used for furniture – anything that is meant to have a lacquered look

High—repels moisture and mildew growth

High

High. Wipes clean easily

Caveat: A glossy sheen in a very dark color shows every fingerprint and scuff

 

Semi-gloss (slightly shiny)

Doors, millwork

High—repels moisture and mildew growth

 

High

High. Stands up to more-abrasive cleaning products, such as kitchen cleaners

 

Caveat: Even a slightly glossy sheen in a very dark color shows every fingerprint and scuff

Satin (soft, lustrous sheen)

Kitchens, bathrooms

High

Moderate

High—wipes clean easily

 

Eggshell (slightly matte finish to low sheen)

Low-traffic areas, also performs well in wet spaces such as bathrooms with high humidity.

Moderate to low

Moderate

Moderate—cleaning may cause paint to fade or rub off

 

Flat (matte finish)

Masks imperfections; most walls and ceilings

Moderate

Moderate

Moderate – paint technology has allowed for flat sheen paint to be more washable

 
Color Theory Best Practices
When designing a home, paint is often one of the last things to choose because they are dependent on the other design choices. When selecting other finishes such as hardsurfaces, furniture, etc., paint has a sort of "domino effect" in regards to the colors at play within the space. 
When it comes to choosing between paint samples, test them in various areas of the home—they'll look different when viewed near a window, in a shadowy corner, or next to walls that are painted a different color. Natural daylight is the best indicator of true color, incandescent lighting brings out warm tones and yellows; fluorescent lighting casts a blue-ish tone. In the same vein, paint swatches do not always turn out how you may expect. It is often advised to place it on the wall where it will be "installed" and stand back.
When it comes to exterior paint colors, white works well with stone and other natural landscaping, while dark colors tend to be reflective or glossy.
Depending on the homeowner's desired design outcome, there are different ways to marry the paint color to the other design choices. Playing with complementary colors to bring out different tones in the backsplash or the cabinetry can be a great way to bring together two possibly different palettes.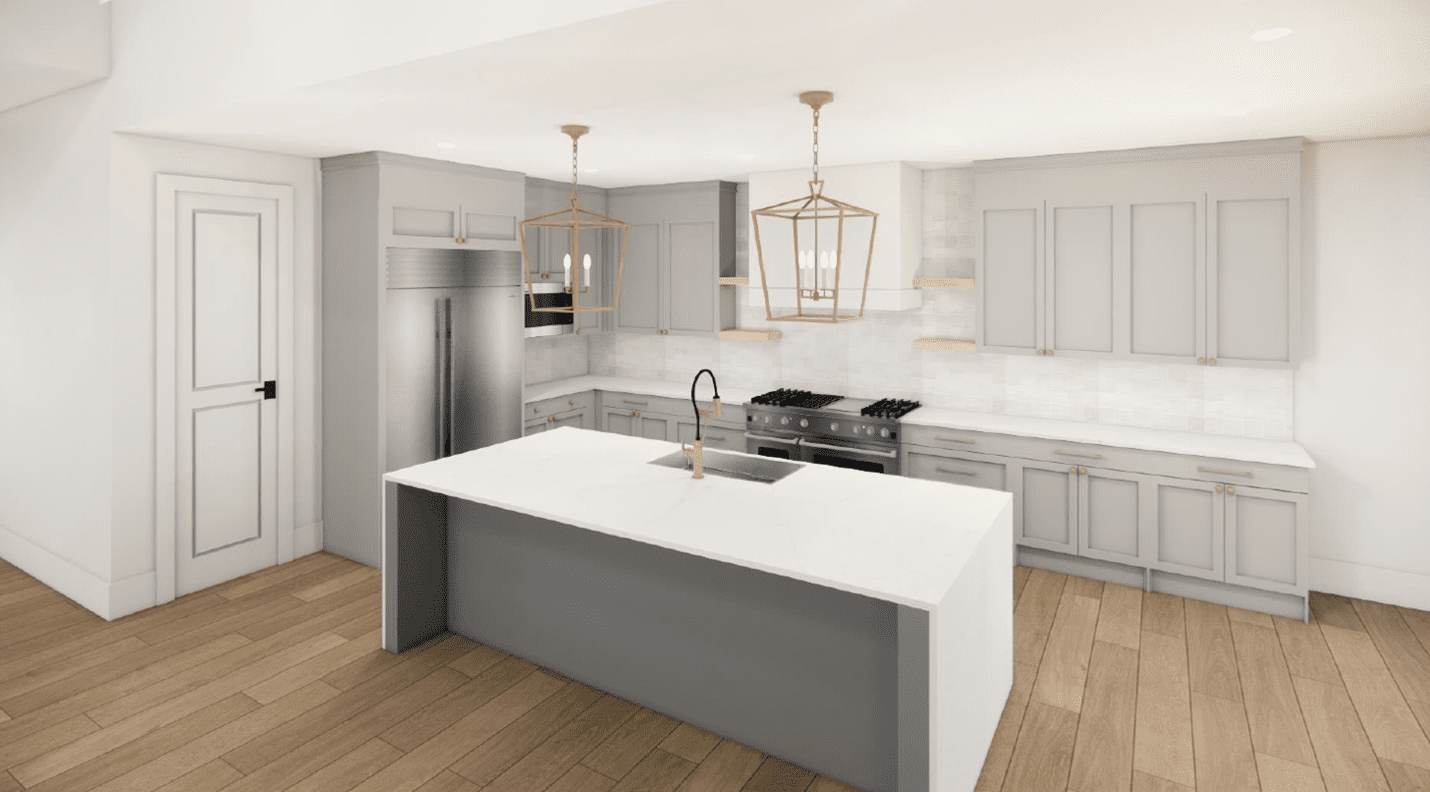 The game of color theory can require a keen eye, so working with trained interior designers is always a great way to ensure that your home is beautifully designed.
Once you've chosen your paint sheen and color, how you paint your home can differ as well.
Modern/European Style – This style is when you match the wall and ceiling color as well as any millwork. This often draws the eye up, creating an illusion of a larger room and higher ceilings.
Traditional Style – This style is when the ceiling/crown moulding is a different color from the walls, usually white. This adds visual contrast as well as lightens the "feel" of the room. If you choose a dark paint color, it's often advised to pair with a light ceiling to avoid too much density.
Wainscotting – This is a fun way to add detail to a wall. It is essentially trim/moulding fastened to the center of the wall (that doesn't go all the way to the ceiling) and often painted the same color. It can add dimension to an open space or create a statement on an accent wall.
Though an important design decision, paint is a customization that can be changed throughout the years. Labor-intensive if DIY, or costly if outsourced. Working with experts can help you tie together your new space with confidence.